Lomalehto Cottages
Five amazing cottages by Lake Saimaa
Enjoy a great holiday – Rent a beautiful lakeside cottage overlooking Lake Saimaa
Our spacious round log cabins Mäntyniemi, Katajanokka, Norppatorppa and Karhunpesä have been given a 5-star villa rating on the Finnish MALO rating scale.
Vuorilahti offers its guests a traditional Finnish cottage experience – it has its own sauna with a woodburning sauna heater, a sandy beach, a rowing boat and an outdoor barbeque spot. Its MALO rating is ***.
"Juniper Point" is a spacious log cabin made of round timber and equipped with all the modern facilities you need
Read more and book now
"Pine Tree Cape" is a cosy log cabin with all the modern facilities, made of round timber with a private lakeside location
Read more and book now
Our "Ringed Seal Cabin" provides you with a perfect setting for an easy and unforgettable lakeside holiday
Read more and book now
You are always welcomed to Lomalehto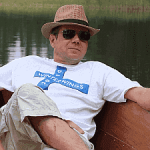 Hi! I'm Ilpo and I've used my over 20 years of experience in the tourism industry to build a set of lakeside log cabins to suit discerning tourists. I built our log villas myself using timber from our own forests.
I know the surrounding forests and lakes like the back of my hand, since my family has lived here for more than 150 years.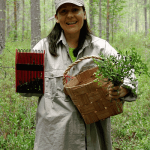 Hello! I have lived in Finland for over 10 years now. I'm originally from Germany, I went to university in Moscow, and I have worked in St. Petersburg and Moscow. I am very familiar with the demands of our international customers.
Ilpo and I have a big and beautiful family: five children and our beloved dog, Nemo.